Skip Navigation
Website Accessibility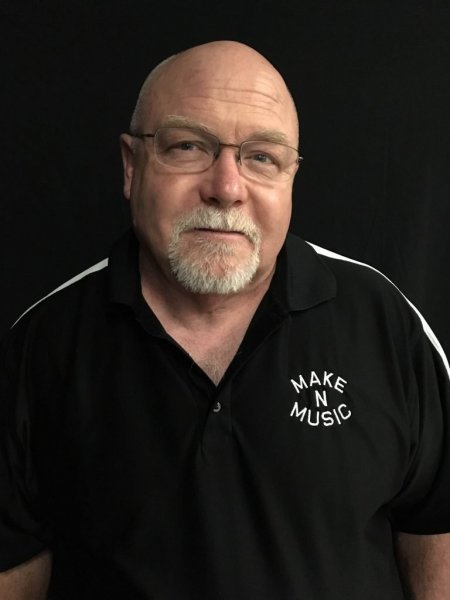 Rick LaFever-Store Manager
Rick's first exposure to music was as an infant, his parents were in a band in the late '40s & early '50s, playing "hillbilly" music. His father played guitar and lap steel and his mother played upright bass, which was twice her size. His earliest memories are of being 2 or 3 years old, sitting on the guitar player's lap, mesmerized and watching his hands make all those sounds.
His first guitar was a $19.95 Silvertone and he was about 8 or 9 years old when he got it, today he has been playing 52 years! Rick has been in bands since the age of 14 and has played Rock ,Country and Blues. His musical retail experience began in 1976 when he made the decision to also work at something he enjoyed. He applied at Giant Music in Falls Church, VA, where he had bought his first electric guitar and amp, as well as a 1970 "Hendrix at Woodstock" Strat. At that time, Giant had three locations and he was placed at the least busy store, but within 2 months, Rick was promoted to the most busy location and became top sales person, and then Manager.
Rick also always had a knack (or obsession) for taking things apart to "fix" them, and that had carried over to his guitars and amps. While working at Giant Music, he had the privilege of learning how to "fix" things correctly from John Vetter, a brilliant guy who seemed to know everything, including how to impart his knowledge and methodology as they relate to instrument and amp repair.
In 1976, Rick went on to be trained at the Peavey factory in Meridian MS, subjects covered included, signal flow, polarity impedance matching, manufacturing techniques for electronics, speakers guitars/basses and cabinetry. He has been an authorized Peavey Tech for over 23 years and a Fender Repair Tech since 1987. He has also attended the Taylor Guitar University on-campus factory training and has been an authorized Taylor Service Tech for more than 15 years. Rick says, "As a repair person, I take pride in doing the job right and being fair and honest with the customer. Trust is a powerful asset and very important to me."
Rick has been with M 'N' M Frederick since 1986 as Store Manager and trust is what he strives for in sales as well. His goal is to develop the trust and confidence of every person who enters the store, whether they need advice on strings or recommendations and support on major purchases ranging from guitars, amps or elaborate sound systems.
"Selling and servicing at M 'N' M Frederick is not just my job, it's my life!" ~Rick LaFever


Gary Hunt- Sales/Teacher
Gary has been part of the M 'N' M Frederick Family since day one. Reg and Gary were the first two to get MNM off the ground. Gary started teaching when the store opened in 1984, then began working on the sales floor beginning in 86' and has continued to this day. He has seen the evolution of music and has stayed up to date on new instruments and equipment. He's full of knowledge and can help you pick out your first guitar, or if you're looking for a specific sound, Gary can point you in the right direction.
Ryan Nusbaum

Being the son of Reg and Pam Nusbaum, Ryan has grown up in the M 'N' M family. When M 'N M was first located on Patrick Street, Ryan was in a TV commercial for the store and we guess you can say that was his first contribution to the business. Coming into M 'N' M, whether it was taking drum lessons at the age of 9, or just when Pam and Reg had no where to take him, he was always interested in music and playing things LOUD. I guess you can say he never had a choice. Most importantly, he had the opportunity to see firsthand how Make N Music operated and the care and passion all the employees had for music and especially the customers.
Ryan graduated from Widener University, graduating with a degree in business management. Shortly after, he moved to San Diego where he had a couple of different jobs and also received an MBA while doing so. Ryan soon realized that what he really wanted to do was to use his education and experiences to help manage and operate a business. After long and sometimes difficult discussions with his folks and mostly his fiancé, Erin, who was from San Deigo, (can you imagine moving from San Diego to Maryland in the middle of winter?) Ryan decided to give M 'N' M a shot. It's an easy fit for Ryan bringing two passions together, music and business.
"My goal is to keep the exact same values, service, and reputation M 'N' M has built over the years. I've seen it my entire life, this place is a second home to many and a place where people come to relieve stress and just BS a little about music. I don't want to change a DAMN thing, I just want to add to the experience and build on the foundation M 'N' M has built for the last 38 years."